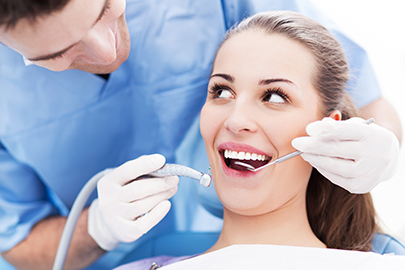 Preventive care offers the best way to maintain your teeth, keeping them healthy and looking great. Often
times, dental conditions start as painless and pain may only be evident once disease has significantly
advanced. By utilizing routine dental check ups and cleanings (approximately every 3 months), in addition to
good oral hygiene at home, you can nip many disease processes in the bud. Often times, we can identify early
cavities and gum disease which can be intervened upon early and help avoid more lengthy and involved
procedures down the road. Dr. Sharma prides herself in performing a comprehensive and detailed oral
examination, inspected the teeth, gums, and mouth. She will closely inspect each of your teeth for
chips, fracture, wear and decay, and will also check the alignment of your bite. Dr. Sharma also has a special
interest in oral pathology and performs a thorough oral cancer screening on all her patient as well.She
supplements this with the use of digital x-rays that emit far less radiation than conventional x-rays in hospitals
to evaluate the inside of your teeth and jawbone. After a thorough evaluation, Dr. Sharma will suggest only
what is necessary and advisable to keep your smile radiant and healthy.
Further, Sparkle Dental prioritizes patient education and Dr. Sharma firmly believes that you are the most
vital part in keeping your teeth viable and vibrant. Dr. Sharma will advise you on best home oral care practices.
She will personally teach you the most effective brushing and flossing techniques, and will show you the best
tools to use to clean your teeth and gums at home.
Please call us at  + 1 925 493 7470 or book an appointment today.